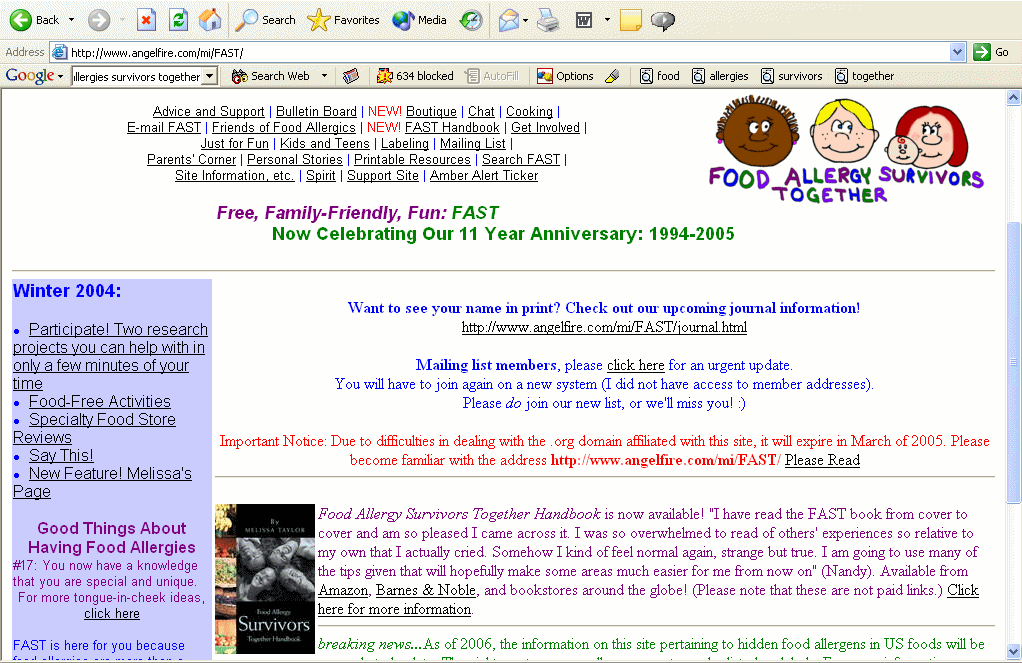 Description of page:
Links at top of page:
Advice and Support | Bulletin Board | NEW! Boutique | Chat | Cooking | E-mail FAST | Friends of Food Allergics | NEW! FAST Handbook | Get Involved | Just for Fun | Kids and Teens | Labeling | Mailing List | Parents' Corner | Personal Stories | Printable Resources | Search FAST | Site Information, etc. | Spirit | Support Site | Amber Alert Ticker
Main heading:
Free, Family-Friendly, Fun: FAST
Now Celebrating Our 11 Year Anniversary: 1994-2005
Left column (includes advertisement for research projects):
Winter 2004:
Participate! Two research projects you can help with in only a few minutes of your time
Food-Free Activities
Specialty Food Store Reviews
Say This!
New Feature! Melissa's Page

Good Things About Having Food Allergies
#17: You now have a knowledge that you are special and unique.
For more tongue-in-cheek ideas, click here
FAST is here for you because food allergies are more than a condition. They affect your family, friends, and lifestyle. We are in this together, and together we can make living with food allergies a little easier.
Main area of page:
Want to see your name in print? Check out our upcoming journal information!http://www.angelfire.com/mi/FAST/journal.html
Mailing list members, please click here for an urgent update.
You will have to join again on a new system (I did not have access to member addresses).
Please do join our new list, or we'll miss you! :)
Important Notice: Due to difficulties in dealing with the .org domain affiliated with this site, it will expire in March of 2005. Please become familiar with the address http://www.angelfire.com/mi/FAST/ Please Read
--------------------------------------------------------------------------------
Food Allergy Survivors Together Handbook is now available! "I have read the FAST book from cover to cover and am so pleased I came across it. I was so overwhelmed to read of others' experiences so relative to my own that I actually cried. Somehow I kind of feel normal again, strange but true. I am going to use many of the tips given that will hopefully make some areas much easier for me from now on" (Nandy). Available from Amazon, Barnes & Noble, and bookstores around the globe! (Please note that these are not paid links.) Click here for more information.
--------------------------------------------------------------------------------
breaking news...As of 2006, the information on this site pertaining to hidden food allergens in US foods will be