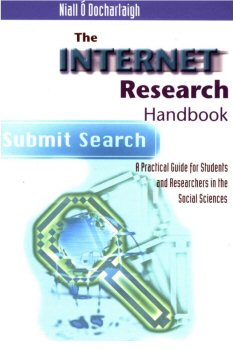 Title
O' Dochartaigh, N. (2001) The Internet Research Handbook: A Practical Guide for Students and Researchers in the Social Sciences. London. Sage.
Link

http://www.sagepub.co.uk/ book.aspx?pid=103659
Synopsis
This much-needed book provides clear but detailed advice in all of the main areas of Internet research. For those carrying out research online, a number of very different sets of skills from the conventional "systematic way of asking questions," is required. Using the Internet for research involves learning how to access the correct sites and extract information in the shortest possible time. It involves maximizing the possibilities of opened up email contact with other researchers around the world, and it involves learning about the major databases which are devoted to the social sciences and learning how to do the detective work necessary to evaluate and to cite documents whose authorship and origins are often unclear. It sets out, in clear and simple terms, best practice in the use of the Internet as a mainstream research resource and deals with the Internet as a thread which runs through the entire research process, from formulating a research question to publishing the results of your research.
Ideal as a course textbook at undergraduate and graduate level in a range of social science disciplines where doing a research project is an integral part of the course. It will also be of great use to postgraduate students who are about to start research for a dissertation, and for experienced academic researchers who are trying to incorporate the Internet into their research practice.