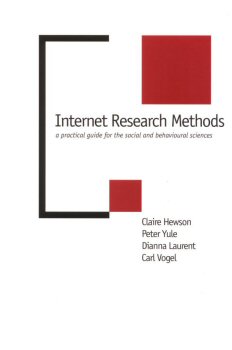 Title
Hewson, C., Yule, P., Laurent, D. and Vogel, C. (2003) Internet Research Methods. London. Sage.
Link

http://www.sagepub.com/booksProdDesc.nav? prodId=Book206388&
Synopsis
Offering a concise, comprehensive guide to conducting research on the Internet, this book provides a detailed explanation of all the main areas of Internet research. It distinguishes between primary research (using the Internet to recruit participants, to administer the research process and to collect results) and secondary research (using the Internet to access available material online).
The book is designed for social science researchers and presents a user-friendly, practical guide that will be invaluable to both students and researchers who wish to incorporate the Internet into their research practice.